No, NATO Allied Land Command leader wasn't captured by Russians in Ukraine
2 min read
The Russian invasion of Ukraine has sparked another baseless internet rumor, this time about the alleged capture of a top NATO leader in Mariupol, Ukraine.
"Unconfirmed sources from Russia Military: The Russian army captured the U.S Major General Roger L. Cloutier Jr. … in the besieged Ukrainian Azov camp in Mariupol," said the April 4 tweet that appeared to start the rumor, according to CrowdTangle, a social media insights tool.
The tweet came from an anonymous account that has spread pro-Russia and conspiratorial content warning of "globalists." Its Twitter bio says the owner's prior account was suspended.
The tweet not only got Cloutier's military rank and title wrong — he is a lieutenant general and the commander of NATO's Allied Land Command since August 2020 — but it also set off a flurry of social media posts falsely claiming Cloutier was captured. One Facebook post spreading the same message received more than 4,000 likes in a matter of hours.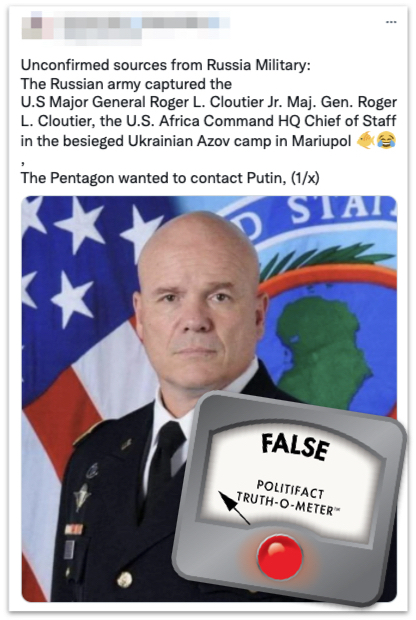 The posts were flagged as part of Facebook's efforts to combat false news and misinformation on its News Feed. (Read more about our partnership with Facebook.)
The false claim was promoted in posts on the pro-Trump and QAnon internet forums patriots.win and greatawakening.win, both of which have played host to far-right and extremist content in the past. Hal Turner, a far-right radio host who has a history of elevating conspiracy theories, also repeated the narrative on his website. The headline on his April 4 story: "U.S. Army General CAPTURED in Mariupol with AZOV Nazis!"
But Maj. Brian Andries, deputy public affairs officer at NATO Allied Land Command, confirmed in an email to PolitiFact that Cloutier has not been captured. 
"These rumors are completely false," Andries said. "Our commander is currently commanding NATO Allied Land Command in Izmir, Turkey, and has not been to Ukraine since the Land Staff Talks we conducted in July of 2021. While NATO nations are sending financial and military aid to Ukraine, no NATO soldiers or leaders are deployed to the country."
On April 5, one day after he was alleged to have been captured, Cloutier shared photos from an event in Turkey to his LinkedIn profile. One commenter responding to the post asked Cloutier about the rumors that he had been taken captive by Russian forces.
Cloutier's response was the same as Andries' to PolitiFact. "These rumors are completely false," he wrote in reply.
Cloutier is also in photos the Allied Land Command posted to its official Twitter and Facebook accounts from the same April 5 event.
We rate claims of Cloutier's capture False.